Gästhuset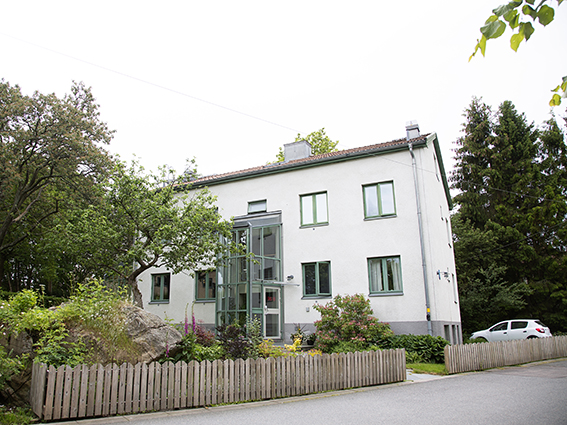 The Building
This house has five units inside and is located on Chalmers Campus Johanneberg, with the address Eklandagatan 96B. The house and is only available for guest researchers. The apartments are planned and furnished for your convince. Contracts are granted on a six-month basis. As a tenant, you will get access to the pool located at Emilsborg, at Gibraltargatan 80, which is within walking distance.
Type of Apartments
| | | | |
| --- | --- | --- | --- |
| Living area | Amount | Description | Monthly rent incl. additional costs1 |
| 25-29 m2 | 4 | Studio with kitchenette | 6833- 7276kr |
| 57 m2 | 1 | 3 bedroom flat | 11 537kr |
1 Additional costs refer to fees to the Board of Trustees and the Internet
The rent above is for 2022.
Basic rent and monthly rent
As a tenant, you will get a rental slip every month which makes the living expense predictable. The rent is invoiced 12 months/year.
The basic rent fee is built up from the rent of the living space, heating, hot water, and electricity. A tax fee (VAT) will be added on top of the rent. (This is already included above).
On the payment slip, above the basic fee and the VAT, two other costs are added, for the obligatory internet connection and an obligatory fee of to the Council of Trustees, the total cost of this is 150 SEK per month.
The table above refers to the total rent per month, including additional costs of internet,tax and fee to the Board of Trustees.
Furnishing, appliances, and fixtures
All the apartments are furnished. The apartments with a kitchenette have a refrigerator with freezer compartment, separate countertop oven, and two hotplates. The other apartments have a complete kitchen with a refrigerator and a freezer.
Parking facilities for bicycles and cars
Outside the villa, there are parking facilities for bicycles.
Laundry room
There is a communal laundry room in the basement of the villa, consisting of a washing machine, a tumble dryer, and a hot air-drying cabinet. The room is accessible around the clock. In the basement, there is also a sauna and a shower.
Recycling and waste-handling
As a tenant, you can sort and fraction your household waste in or close to the building.
Apartments for guest researcher
Apartments for guest researchers will not be published on our webpage. They are administrated separately by the institution International Staff Mobility at Chalmers (ISMO) in collaboration with us. We do not choose who will be offered apartments for guest researchers,  this is done by ISMO.
Guest researchers at Chalmers should contact ISMO for the housing queue and questions regarding housing. If you want to increase your chances to get one of our regular apartments, and not only the special apartments through ISMO, you need to register in our housing queue. Please click here to register in our housing queue.
Your housing host
Alexander Kapnias Olsson is your housing host and will help you with fault reports and inspections of the apartment. Faulty reports are done through My Pages.